There are wonderful things happening at Integrity Healthcare of Alton!  We have undergone extensive redecorating and a bit of remodeling.  We have new flooring, new wall coverings and new draperies.  Our expansive dining room still houses our much loved baby grand piano, but it is new redecorated and is only made more beautiful by the smiles of our residents!  New chairs and tables with lovely tablecloths and centerpieces help make your loved ones more comfortable, as they enjoy our excellent dining service.
We focus on prepare superb meals at our community.  Residents help choose menus and frequently tell us about their favorite  foods.
Meal service is about much more than simply preparing good food.  We pay close attention to each resident's dietary needs.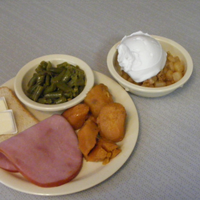 If they lose weight … or if they gain weight … we find out why.  If their dietary consumption needs adjustment, then that is exactly what we do.
Licensed Dietitians work closely with our Dietary Managers to make certain that our meals are highly nutritious and well balanced.  We don't ignore the need for extra snacks, plenty of beverages for adequate hydration … and special desserts!  Just look at this pear crisp, made 'from scratch'!
Home cooking is an important part of our Care You Can Trust!