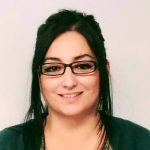 Cassie Lindow, LNHA is the Administrator at Integrity Healthcare of Alton.  Cassie has worked in healthcare for 24 years and 17 of those years have been at this facility.  Known to lead by example and treating people with kindness, Cassie also believes in resolving issues as they arrive.  The old adage, "Don't put off until tomorrow what you can get done today" is one of her mantras.
IHC of Alton is situated within its own little nook in a quiet residential area near Anchor of Hope Fellowship Center.  Although the building is not located directly off the highway, it is just a few minutes from shopping, museums, theatres and world-famous dining.  Visitors are greeted with a beautiful long walk under big trees that shade a lovely fountain and patio, where residents are often found visiting and where we frequently have barbeques!  Residents enjoy a large dining room newly decorated with beautiful furnishings, wall coverings and draperies.  Residents also enjoy solariums, the bird aviary, the cheerful fish tank and an electric fireplace … all amid new flooring, art and furnishings.  We provide a cozy, home-like atmosphere and can accommodate small family gathers in a private dining room or other space.
The best part of Integrity Healthcare of Alton are the people. Of course, the care provided to the residents is the top priority, and the staff see each individual resident as their own loved one. The nursing staff take pride in their work not only because it is their job, but because they genuinely care about the people whose home we work in.
Our Team Alton is a group of people who work very well together.  They get things done, and if one person is unable to help … then another person will provide that help.  Compassion instilled deep within is what makes our staff very good at their jobs! We Are Integrity.