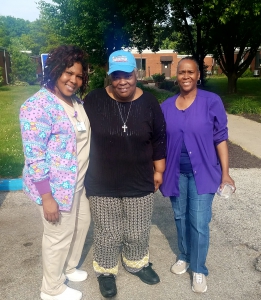 I spent three years in the care of Integrity Healthcare of Belleville.  During that time, I served as the Resident Council President. I had a very interesting stay, and I learned a lot of things about people.
When you are sick and need to be in rehab, it is good to get help.  I learned that some people have different problems than others.  I had a good time doing activities, doing exercises and bowling.  I am so good at Bowling … on one can beat me!
I also became the queen for a year and I learned to respect others.  I love all the staff. The Director of Nursing, Kenya, and I became close.  My guy, Dave … he is the best!  He taught me how to read my blood sugar and how many doses of medicine to draw up in my pen to give myself my shot.  The therapy staff were magnificent.  With their help and God's, I'm walking and being independent again.  I am so thankful.
I got to know the residents, too.  May God bless them.  I had experiences with the different churches that visit here.  The kitchen staff here are wonderful people. I will miss them all.
I enjoyed all the special functions.  There was never a dull day.  The parties we had were wonderful.  I enjoyed dressing up like we were going to prom. The Christmas party was great and Christmas in July was great, too.
I will miss all my friends at Integrity Healthcare of Belleville.
Submitted by Carletta Hill, 5/2018