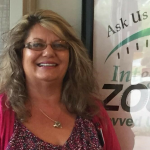 Our Administrator, Wanda Ritchie, has 25 years of experience in long term healthcare.  She began her career as a Certified Nurse's Assistant. She advanced to Activity Director and on to Social Services Director, prior to taking the position of Administrator.
When asked why she enjoyed long term care, Wanda's answer was wonderful.  She said, "I truly love people in general, so to have the privilege to make someone smile when it has been a bad day; to make someone feel safe when they are insecure about their placement; to make someone know how important they are when they think no one is listening … and assisting with all the little things in between that are actually big things to all the residents and families whose paths I have crossed … It is the most amazing gratification any one person can experience. I leave each day smiling, because I know that I have made someone happy."
Integrity Healthcare of Godfrey is a 68-bed facility that offers a full continuum of services and care focused around each individual resident.  Our patient centered care plans are individualized and we successfully treat the variety of issues facing our geriatric population. Integrity staff proclaim that their ZOOM! Revved Up Rehab program is amazing! It consists of Physical, Occupational and Speech Therapies provided by and supported by loving, well-trained licensed therapists.