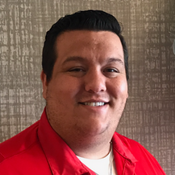 Kyle M. Ritchie, LPN, is an award-winning administrator at Integrity Healthcare of Godfrey!  Kyle was awarded "World Wide Leader" status by the International Nurses Association for outstanding healthcare leadership in 2016.  Having started as a volunteer in a nursing home while his mother was a Social Service Director, set Kyle's professional course. His adventure made him interested in helping people, so he obtained his CNA certificate.  He then obtained his Nursing diploma and began a career that includes having served as a floor nurse, MDS/Care plan nurse, hospice nurse and home health nurse.  He has worked as a MDS/Restorative training consultant, and he brings all these skills and expertise to Integrity Healthcare of Godfrey.
Leading by example and getting his hands dirty are traits that make Kyle a good leader.  He says he wants to show the staff how to do things and why tasks are done in specific ways.  He believes that he is fair and understanding and is always willing to allow a democratic style, but will take control of issues and delegate when needed.  Kyle takes a lesson from author and leadership coach, John Maxwell, and believes, "A leader is one who knows the way – goes the way – and shows the way."
Integrity Healthcare of Godfrey is in a facility that has an amazing A-frame architectural layout.  When visitors pull up to the front of the facility, they sense a small country-style intimate approach to healthcare.  When they walk through the front doors, they see the remodeled lobby that takes a trending modern approach.  As visitors continue to tour the building, they will pass through the dining room that leads to a patio and has a comfortable cottage-like feel.  As visitors enter the Therapy Department, they realize that while their loved ones enjoy high-tech equipment and expert staff, they will still be in a very relaxing and close-to-nature environment.  The patio off the dining room and the balcony off the Therapy Gym offer special views of green space and plenty of shade for pleasant outings.
Under the leadership of Administrator Ritchie, Team Godfrey approaches the care they provide with high regard to quality, while always maintaining a resident-sensitive approach and a compassionate environment.  Viewing residents as family, this team allows as much independence as possible, while maintaining resident safety.  Comfort and trust are integral to the care they provide …  Care You Can Trust.