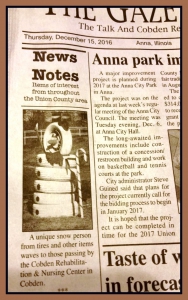 Project description
Robert Roach made this big Snowman out of tires! Robert is married to Trisha, the Director of Activities at Integrity Healthcare of Cobden! What a fantastic addition to their streetside holiday decor!
Project Goals
The entire Cobden facility is decorated inside and out … for Christmas! All the staff participated in getting the project completed, and it proved to be a great team building exercise!
Always a Success
The local newspaper ran a front page article about Cobden's tire snowman!  That's success!
Integrity Community
Integrity Healthcare of Cobden staff worked many hours to create a beautiful holiday world for our residents to enjoy. Good job!