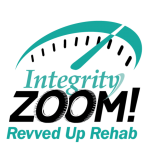 Therapeutic ultrasound is a treatment modality commonly used in physical therapy. It provides deep heating to soft tissues in the body such as muscles, tendons, joints, and ligaments. By deep heating the soft tissue structures in the body the therapist at Intregrity Healthcare are able to increase circulation to those tissues, which helps the healing process and decreases resident's pain. Deep heating can also increase the "stretchiness" of muscles or tendons that are tight and painful for the residents and limits their mobility.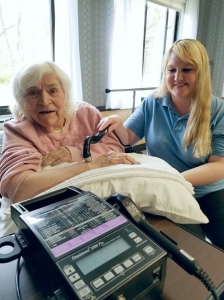 The therapist at Integrity Healthcare use theraputic ultrasound to treat common conditions and injuries such as bursitis, tendonitis, muscle strains and tears, frozen shoulder, sprains and ligament injuries, joint contracture or tightness, and chronic pain.
Pictured here are Mary Edmonds (resident) and Certified Occupational Therapy Assistant, Brandi Siedler.