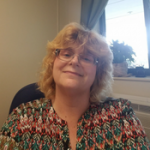 Jaimie Sterling is the Administrator of Integrity Healthcare of Anna.  She has been in the healthcare field for over 28 years and says she loves to listen to and chat with the residents.  Jaimie says her job is one of the most rewarding jobs a person can have!
Citing her leadership style as one that is working well with Team Anna because the team has a huge amount of compassion for the residents. "Anyone can be a manager, but it takes integrity, honesty, loyalty and a willingness to help your employees to be a true leader," describes her style.  Going the extra mile to let your team know you care and that they are not just a number … has always been Jaimie's approach.  She says her door is always open for residents, employees and families … and she promises a smile every day!
Integrity Healthcare of Anna is backset with a wooded tree line but is located in a well-groomed residential neighborhood within a half mile of three churches. The downtown business district is less than a mile away from the facility and supports a community that, like many rural towns, is tight knit. People know each other and families support those who need assistance. It would be difficult to employ a staff person who wasn't known in the community, and that is a very good thing!  Resident families appreciate the fact that friends are taking care of their loved ones. That is Care You Can Trust!
The building has an inviting front porch with plenty of area for sitting and chatting, while enjoying the fresh air. The dining room is the gathering place, and it is common to see groups of residents enjoying coffee and snacks, watching television or participating in the newspaper club each morning. A care team that behaves like one big happy family is what makes Integrity Healthcare of Anna special.  The staff are close and home-town hospitality is abundant.  "Hello, how are ya?" is a common greeting.  A big helping of smiles are served up to each of the residents, families and visitors.  Customer service makes Integrity Healthcare of Anna shine.  Showing respect and dignity is a priority.  We Are Integrity.