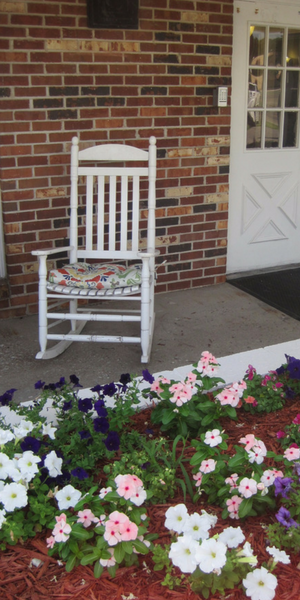 It is the green season for mowing grass and trimming shrubs! It won't be long until we begin to rake leaves, too!
We are doing lots of yard work these days!  We are also paying close attention to the value of our outdoor setting because we know how much our residents love to spend time in the fresh air!
According to the American Society of Landscape Architects, gardens are back in style and are now being prominently featured in the designs of new hospitals and other healthcare facilities. We already knew this!  We have the space.  We have the plantings, and now we just need to make the patient experience much more enjoyable.
We treasure our sunlight and the fragrance of fresh flowers and lush greenery. We know how exciting it is to watch plants grow from little green specks sticking out of the garden beds into beautiful flowers. These things give our residents a connection to nature. The stillness of the outdoors relieves stress. The softness of plants can help reduce anxiety.
We know that our green space is healing.  Our courtyard and covered patio is a fantastic place for outdoor activities! Our front porch is the perfect place to rock and smell the sweet petunias!  Providing these green space opportunities is an important part of our Care You Can Trust!