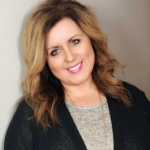 Carla Riva, LNHA joined Integrity Healthcare of Belleville as the Administrator after serving as Administrator at Integrity Healthcare of Wood River. Carla has been working in long term care for over 20 years.  She started as a teenager in the Dietary Department, then became a CNA and then a Nurse. Her nursing experience includes having served as an Assistant Director of Nursing.  She combines real world experience and her education, as she works to improve the quality of care in her facility.  Carla is currently working on her Master's Degree from Lindenwood University in Health Care Management.
Carla's leadership style fits IHC of Belleville.  She values input from her team members and her peers.  She encourages staff to contribute to the decision-making process.  She leads by example and works closely with her team to provide the best possible quality of care to the residents.
Integrity Healthcare of Belleville is a behavioral health facility and is located in a residential community. Children from the daycare located behind the facility often visit and help provide the residents with inter-generational programming.  The facility is implementing a new program, Journey of Hope, which will focus on returning residents to a more independent home in the community.
This facility was honored to receive the VOHRA Wound Physicians Center of Excellence for Wound Management Award. The facility has a wound care physician who visits weekly.
The staff at Integrity Healthcare of Belleville provide Care You Can Trust.