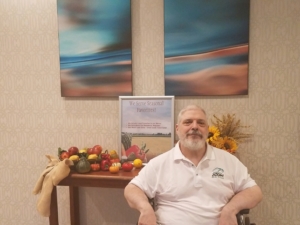 On August 24th, Michael Gossett was admitted to Integrity Healthcare of Carbondale to participate in ZOOM!, our revved up rehab.  His condition prevented him from taking care of himself and he said he was in a "desperate situation".  At the end of his stay, just a few weeks later, he sat down with the Administrator and discussed his experience with IHC Carbondale.
Michael praised the Director of Nursing and the Administrator for helping him through the admission process.  He praised the nursing care team because they helped him tolerate getting out of bed and made sure that he 'got his meals'!
When asked about the therapy staff, Michael said that even though he wasn't 'back 100%', they had returned him to a point that he will be able to make those last few improvements.  ZOOM! had worked perfectly for him and he appreciated the therapy staff and the way they approached goal setting and gaining results
He reported that all the staff … from Housekeeping to Nursing … had been good to him and said he could only praise them.  The staff were always attentive and prompt.
Food was on his mind during the conversation and Michael said he was fed more than he would normally eat, so he was never hungry.  He loved having sweets with every meal and enjoyed all the snacks!
Michael was never bored because the Activities Team kept him busy with upbeat things to do.  He said his laundry was always done faster than he ever did it himself, and maintenance was done before he had to ask!  He praised the renovations underway, pointing out the new flooring.
Dr. Hanson visited Michael 3 times in 4 weeks and he was very pleased with that kind of attention.
In summary, Michael Gossett said he discharged as a very happy man.  He hopes he doesn't have to return, but Integrity Healthcare of Carbondale will be his first choice, if he needs care again.
We provide Care You Can Trust!